Art Nouveau
International Mosaic Exhibition 2010
.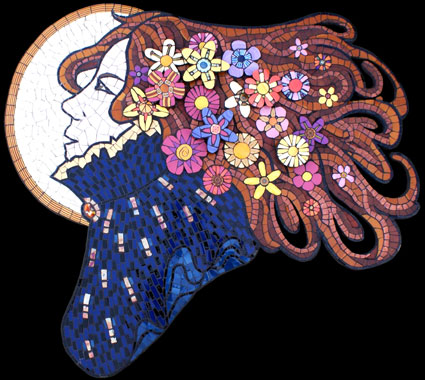 "With Flowers in Her Hair" (Best in Show)
Inspired by the art of Klimt and the illustrations of Beardsley and Musha. The girl is restricted yet free with her high collar contrasting her flowing locks. This is also reflected in the texture of the mosaic where freedom is more textured. Some of the flowers have been raised to emphasise this freedom.
A range of materials has been used including ceramic, glass, millefiori and pique assiette.
Contact Details: angie29771@toucansurf.com
---
.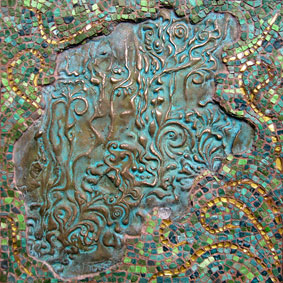 Secession
IIiya IIiev
This was many years ago a project made from Plaster of Paris for decorating the space over a staircase. The relief forms like this come one after another underlining the progressive movement.The Art Nouveau idea of your exhibition gave me an inspiration to make a galvano plastic copy of my relief which was in a pure secession style and to surround it with a green Smatli mosaics,using an English red plaster,which really harmonises with the relief's copper...
Contact Details: ilievi_art@mail.bg
---
Jean Kinloch
I have long admired the work of Alphonse Mucha, and this is my interpretation of his style, and my first 'freehand' portrait."
Contact Details: jean.kinloch@btinternet.com