Art Nouveau
International Mosaic Exhibition 2010
.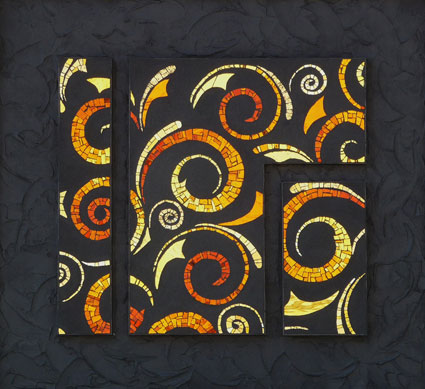 Songes
There is something hypnotic about fragmented expression and inner light of glass and rocks, playing within a flow where each single tesserae interacts into a whole harmonious visual sensation, appealing at a distance, and inviting to come closer, to explore the individual component, appreciate its texture, radiance, then go back again at a distance to go deeper into the fragmented mosaic art timeless beauty.
Light and movement invite themselves in each piece I create, to go straight to the heart and soul of the viewer within a daily relationship always changing, as the outside light or posture or mood do.
The swirls of "Songes" deflagrates in a bed a cement and metal, as Art Nouveau exploded in the early 1900s. In a mad energy.
Contact Details: f.moulet@gmail.com
---
.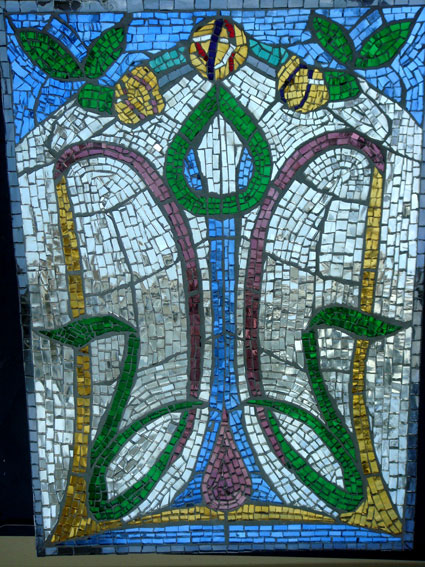 Untitled
Graham Norwood
This is an interpretation of an art nouveau stained glass window from a Glasgow front door. Instead of relying on something bright behind the window, the mirror glass gives it a blingy and perhaps more contemporary appearance.
---
.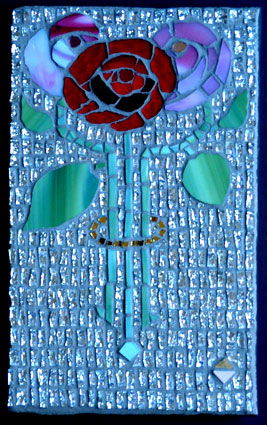 Art Nouveau
Michael Pullen
When I heard of the theme of the new exhibition, the first thing that came to my mind when thinking of Art Nouveau was Charles Rennie Macintosh and the wonderful things he produced in that period towards the end of his life. I looked on the internet and books from the library on Art Nouveau and discovered that a lot of the designs and pieces of art were made up of very simple lines given a contemporary twist to make them look stylish and completely different from everything that had been produced previously. This is why I decided to use such a simple design for my mosaic. When I had just finished the mosaic, I thought it appeared to simple but since it has been grouted, I have observed that the strength is in its simplicity and as a result it has taken on a whole array of new dimensions. I feel that my experience of creating the mosaic captures the spirit of Art Nouveau.
Contact Details: pullenma@aol.com