Art Nouveau
International Mosaic Exhibition 2010
.

Untitled
Nicky Tudor
These mosaic 'tile' designs were taken from actual ceramic tiles of the Art Nouveau period and inspired by the many sumptuous designs produced in the early years of the 20th century. Strong colours and bold graphics epitomise the striking style of the era, making them a fabulous source of mosaic inspiration.
Contact Details: nicky.2dor@ntlworld.com
---
.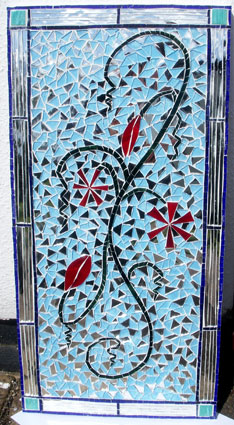 Summer Gate
Janet Ventre
My piece 'Summer Gate' was inspired by a gate design I came across. I loved the stylised lines yet at the same time the simplicity of the design.
---
.
| | |
| --- | --- |
| | |
| Paon | Peacock |
Mel Watts
The Peacock was one of the most commonly illustrated birds in the art nouveau period, and its stylish feathers and image represent this time perfectly.
Millefiori, Van Gogh tiles and stained glass are used in this mosaic to give the bird its dazzling plumage, and he is seated on a French scroll which reaches out to the moon - represented by a mirror. The bird is viewed through a stylish arched window, which frames the art work.
A sumptuous, beautiful Peacock has been created, using stunning materials, demonstrating the birds striking colour and splendour! The body and head of the Peacock are produced by fusing layers of dichroic glass...and slithers of white and red glass give Him his face, with a fused millefiori eye. The plumage, in black and green vitreous glass, is seperated with glimmering gold smalti tiles, framing the central Peacock perfectly. A variety of sizes of millefiori represent the 'eyes' in the feathered plumage of the Peacock.
Peacock 1 is created in a free and spontaneous style, giving the work its originality and randomness.
Contact Details: melcokayne@hotmail.com