Art Nouveau
International Mosaic Exhibition 2010
.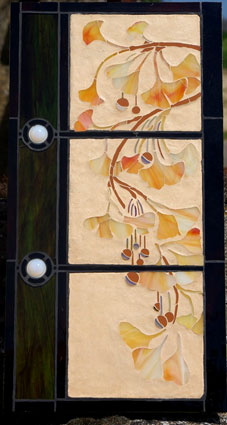 In the style of

"Jacques Gruber"
In the late 19th century was created the Ecole de Nancy, an Art Nouveau group assembling many famous artists.
Their artistic aims was mainly to celebrate nature beauty. For that, they showed amazing multidisciplinary savoir-faire . These two aspects deeply soon appeal to me. Moreover, I was born near Nancy. In these pictures we can see Jacques Gruber stained-glass windows at the Brasserie de l'Excelsior in Nancy.
I choosed Ginkgo Biloba branches figuring in these stained-glass windows when I was younger the first time I visit the Excelsior ! This is a great joy for me today to present in Exeter my interpretation of those amazing Gruber creations
Contact Details: sylvie.foisel@gmail.com
---
.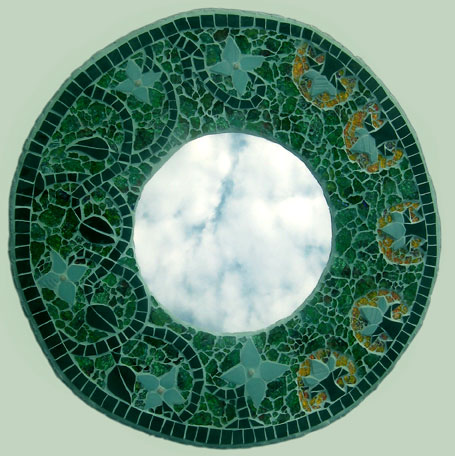 Untitled
Katy Gilbrath
At first, I found the challenge of working to the 'art nouveau' theme very restricting, as my own style tends to be more chaotic and random using a variety of textures and materials. However, on researching the subject, I warmed to it.
My piece, without title, was influenced by various images found on the internet. I liked that whilst there was an element of symmetry and rhythm to the piece, the nature of the art nouveau style allows some deviation from this, thus permitting some flexibility in the design process.
Recycled materials stimulate many of my ideas in other mosaic pieces that I have done, and this one is no exception. Using abandoned ceramic tiles, un-saleable dishes from my sister-in-law who is a potter, tempered glass (broken car window) with a collage of gift wrap and sweet wrappers underneath, I hope I have lived up to my eco-credentials. Given the time of year that this was created, I have even managed to incorporate Cadbury's Creme Egg wrappers. The surface use for this mosaic originates from discarded kitchen units.
Contact Details: katy@galvelmore.co.uk
---
.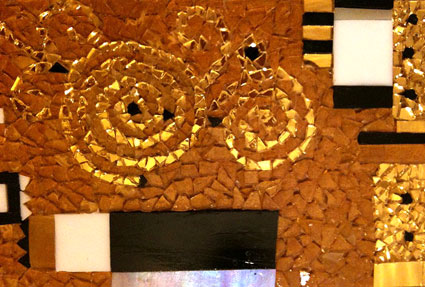 After Klimt
Kim Gould
Inspired by one of the greatest artists of the late 19th century, for me these colours and lines capture the essence of his work.