Art Nouveau
International Mosaic Exhibition 2010
.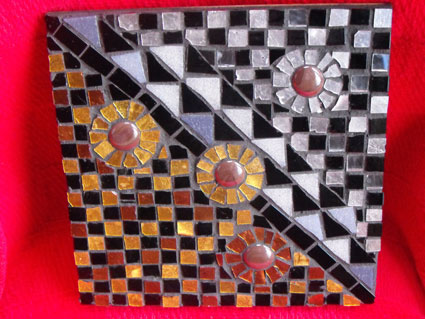 Untitled
Janet Adey
Gustav Klimt (1862-1918).
In 1903 Klimt travelled twice to Ravenna, where he saw the mosaics of San Vitale. Their Byzantine influence is apparent in the paintings of his 'Golden Period'.
In this painting 'Adele Bloch Bauer' (1907); The subject is enrobed in abstracts shapes of gold, silver black, copper, white and grey. This inspired me to make a representation of these shapes within a mosaic.
Contact details: janet@adey.org.uk
---
.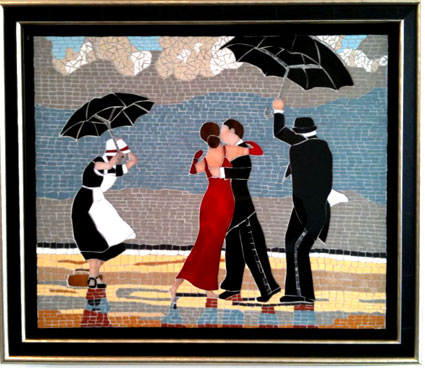 Winner Public Vote
"The Singing Butler"
Linda Aggett
I was inspired by this Jack Vettriano piece the singing butler as it evokes so many emotions, this is set within the Art Nouveau period.
---
.

Flowers
Jane Baker
As the subject is Art Nouveau I wanted to create a piece of work that was both colourful and vibrant. The design I chose in the end gave me the freedom to be as wacky with colours as I wanted.