Art Nouveau
International Mosaic Exhibition 2010
.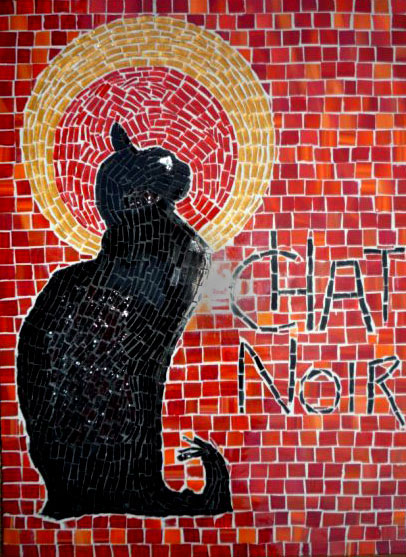 Chat Noir
Anu Partanen Wells
My own version of the famous image "Tournee du Chat Noir" by Theophile Steinlen. I love cats and although my white cat or chat blanc inspired me to do this piece, only le chat noir would truly represent a feline art nouveau.
---
.
| | |
| --- | --- |
| | |
| Klimts Midnight Garden | 'Portrait of Adele Bloch-Bauer as a Guitar' (afterGustav Klimt) |
Michelle Wilcox
The starting point for this piece is Klimt's 'Tree of Life' design for the Stoclet Frieze. I found this painting totally enchanting and decided to make a night time version.
The blackbird has been replaced by an owl and a full moon rises over the mysterious and intriguing garden.
The guitar has long been associated with having feminine qualities, largely due to the curvaceous shape. Many musicians have called their favourite guitar by a woman's name. This piece still remains a portrait of sorts, as Adele Bloch-Bauer is represented by the guitar itself, still dressed in the lavish decoration devised for her by Klimt.
Contact Details: michelle.wilcox@live.co.uk
---
.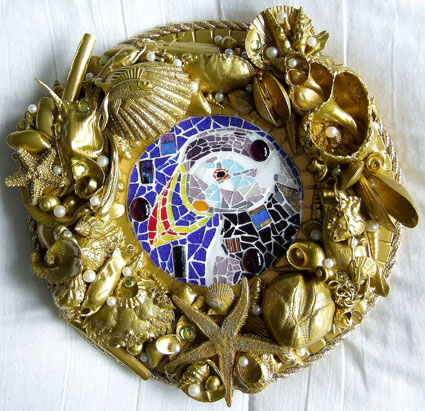 My Circle of Fanasy
Steve L Wrightson
"Walking on the beach while looking at & listening to the splendour of Scottish wildlife always deeply inspires me, especially coastal wildlife such as sea otters, seals & sea birds; though I never have had the pleasure to see a puffin colony on the islands, I have seen many nature programmes with the adorable little birds flying back to their chicks after a fishing trip.
Puffins are a favourite of mine within my mosaic craft & within this Art Nouveau themed exhibition I wished to design a mosaic which kept to the roots & composition of the marine wildlife pieces which I usually produce, but add subtle & unusual changes derived from inspiration of the beautiful gold & jewelled laden works of Austrian painter Gustav Klimt.
"My Circle of Fantasy" is named after part of the chorus lines of "Dinner with Gershwin" one of Donna Summer's best 80's classics. I believe this name suits this piece as fantastical, dreamy & fanciful work of art, much like the sensuous works of Gustav Klimt & the loving tenderness shown within the lyrics of "Dinner with Gershwin".
Contact Details: koidragons@yahoo.co.uk
---
.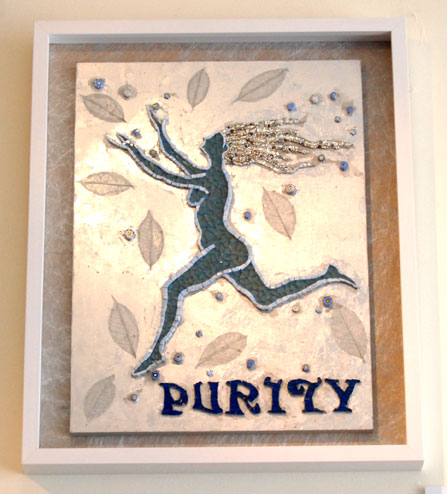 Purity
Julie Stedman
This Mosaic was inspired by research in to Art Nouveau posters and text. I wanted to create my own poster that could have been used in the Art Nouveau period. Alphonse Mucha used lots of ladies sometimes a bit risky in appearance (for the period) in his posters with the wonderful curvaceous texts.
Contact Details: opusmosaic@btconnect.com
Website: www.opusmosaic.co.uk