Art Nouveau
International Mosaic Exhibition 2010
.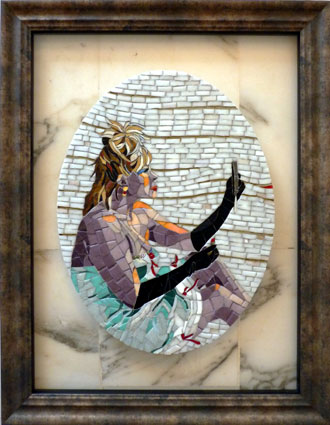 Mirror Mirror
The piece features an elegant lady putting on her makeup. As in many of her works Irit Levy is interested in freezing a single moment in a human everyday life.
Contact Details: levyirit@hotmail.com
---
.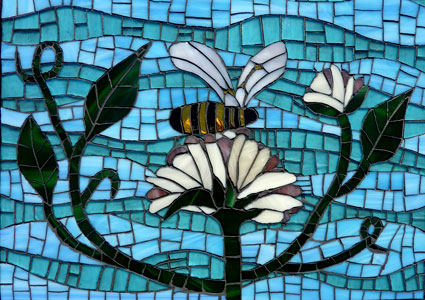 Its all about the Bee
Michelle Milton
The inspiration for this mosaic was from a visit to The Victoria and Albert museum. My favorite piece was an Art Nouveau broach with a bumble bee design on it. My mosaic was developed from this.
---
.
Paris 1897
Isabelle de sa Moreira
Considered as the master of "Art Nouveau", Alphons Mucha of Slavic origins enjoyed most of his success in Paris.
His first commissioned piece was a poster for one of the most famous actress of the era, Sarah Bernhardt.
Afterward he created various numerous advertising posters and this one for the brand "job" rolling paper. In his graphic and non conventional style he valorizes attractive women with abundant floaty flowered hair.
My desire to interpret one of his paintings into a mosaic piece seemed appropriate as it reflects the rich era of Mosaic art that flourished at the end of the 19Th and beginning of 20Th century.
Contact Details: izadsm@yahoo.fr