Art Nouveau
International Mosaic Exhibition 2010
.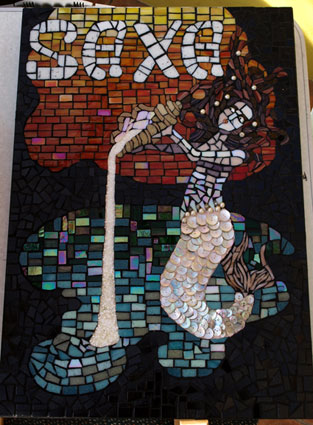 Saxa
Lorraine Cave
For me, the exhibition theme conjured up Art Nouveau in its most graphic form and in particular the posters of Mario Borgoni, a member of the Italian Liberty Movement. I was inspired by his use of a cursive frame, as seen in his design for the Birra Milano beer poster. The subject matter for my mosaic was influenced by the painting Circe Invidiosa, by John William Waterhouse which led me to design my own advertisement for Saxa Salt – The Mermaid's Choice. Mother of pearl buttons and tiny seed beads made perfect fish scales and falling salt grains.
Contact Details : lorrainecave@yahoo.com
---
.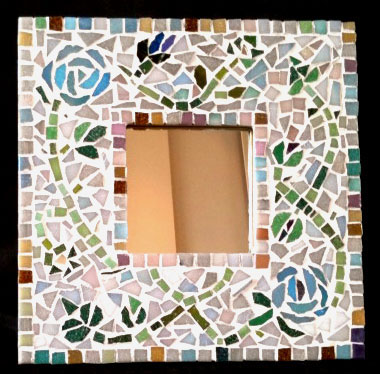 The Blue Moon
Elena Cole
The design was inspired by the memories of my childhood. My mother's great aunt, who lived with us had many lovely pieces of jewellry and pottery and furniture of the 1920s. Sadly, when she died, all that was thrown away by my parents, as all that was considered too old-fashioned! Mind you at the time I wasn' too bothered as it was my job
to dust it all and "be very careful" .
---
.
Nefatari
Jacky Cox
I am inspired by the dramatic imagery and architecture of Ancient Egypt. Nefatari combines this boldness with the sweeping curves and grace of the Art Nouveau movement