Art Nouveau
International Mosaic Exhibition 2010
.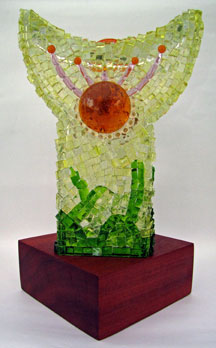 Soleil
Allan Punton
For me Art Nouveau is Tiffany glass because not only did the work represent a new style but it also embodied new techiques and a challenging interpretation of subjects. Here I have used glass that is still handmade in France and Italy. The piece 'Soleil' aims to capture the magic of the rising and setting sun every day stimulating the earth below.
Contact Details: apunton@artopunto.com
---
.
| | |
| --- | --- |
| | |
| Nouveau Landscape | Klimts Wings |
Carole Robinson
'Klimt's Wings'
When making this piece I was influenced by Gustav Klimt's use of pattern and spirals in his work. The pattern on the butterfly has been achieved by using a Willow pattern plate.This is an interpretation of an art nouveau stained glass window from a Glasgow front door. Instead of relying on something bright behind the window, the mirror glass gives it a blingy and perhaps more contemporary appearance.
'Nouveau landscape'
This House name has been influenced by the theme of nature so often seen in Art Nouveau work which conbined beauty and function of everyday things. I have been especially inspired by tiffany's work and the use of stained glass in landscape.

---
.
| | |
| --- | --- |
| | |
| Large Tree Mirror | Small Tree Mirror |
Karen Rose
I have a love of all things beautiful. I enjoy working with glass and often get my ideas and inspiration from the patterns in the glass itself. Take for instance the glass used for the foliage in the trees; this was my inspiration for the rest of the mosaic. The glass that I used for the trunk of the trees Lends itself very nicely. I tried to use one piece per trunk to keep the pattern and grain consistent. I think it all ties together to make an attractive and functional piece.